William Gant was a state's witness in the murder trial of D'Angelo Barksdale.
Biography
He worked as a maintenance man for the Baltimore County Department of Social Services-Housing at the Poe Homes public housing complex. Gant also worked as a part-time airport taxi driver. He witnessed D'Angelo Barksdale's shooting of Pooh Blanchard. He identified D'Angelo from a photo array. ("The Target")
Season 1
Despite the presence of four members of the Barksdale Organization at D'Angelo's trial, Gant reticently identified D'Angelo as Pooh's shooter. D'Angelo was acquitted when the other witness, Nakeesha Lyles, committed perjury, claiming that D'Angelo was not Blanchard's murderer. Gant was shot in the back of the head by Barksdale enforcer Marquis "Bird" Hilton at 200 N Amity Street on his way to work three days later. ("The Target")
Post-Death
Medical Examiner Randall Frazier later inspected his corpse at the Medical Examiner's Office. ("The Detail") Bird was arrested for Gant's murder and the ballistics report matched his gun to a bullet recovered at the homicide scene. Roland Brice claimed to have murdered Gant during a deposition with Bunk. ("Sentencing") Bird was sentenced to life without parole for Gant's murder in 2003. ("All Prologue") During a Western District community meeting in 2004, William Gant's cousin claimed his murder is one of the reasons why many Baltimore citizens are unwilling to cooperate with the Baltimore Police Department. ("Amsterdam")
Production
Appearances
Season 1

"The Target"
"The Detail" *
"The Buys"
"Old Cases"
"The Pager"
The Wire"
"One Arrest"
"Lessons"
"Game Day"
"The Cost"
"The Hunt"
"Cleaning Up"
"Sentencing"
*Uncredited appearance.
Notes
References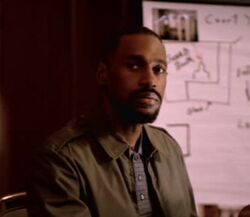 Community content is available under
CC-BY-SA
unless otherwise noted.