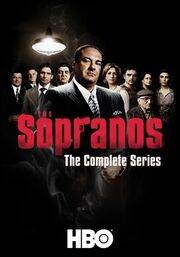 The Sopranos is an American television drama series originally broadcast in the United States on HBO. It shares several connections with The Wire in the form of shared cast and crew members. The Sopranos focuses on an organized crime family in New Jersey. The series ran for seven seasons from 1999 to 2007.
Cast
John Doman plays a District Attorney in the season 2 The Sopranos episode "Full Leather Jacket" and stars as caustic police commissioner William Rawls in The Wire.
Michael K. Williams plays Ray Ray in the season 3 The Sopranos episode "Army of One" and stick-up man Omar Little in The Wire.
J.D. Williams plays inept hold up man Special K in the season 1 The Sopranos episode "46 Long" and drug dealer Bodie Broadus on The Wire.
Brian Anthony Wilson plays gambling shop manager Warren Dupree in the season 3 The Sopranos episode "Fortunate Son" and homicide detective Vernon Holley in The Wire.

Joey Perillo

plays property developer John Stefano in the sixth season of The Sopranos and a medical examiner in the fifth season of The Wire.
Charley Scalies appears as Coach Molinaro in Test Dream, Season 5 of The Sopranos and as Thomas "Horseface" Pakusa in all Season Two episodes of The Wire.
Michael Kostroff can be heard speaking in a sleep drug commercial in the background of Season 6 Episode 19 of The Sopranos.
Crew
Directors
Writers
Chris Collins served as a writer's assistant and a production co-ordinator on the final season of The Sopranos and as a script co-ordinator, staff writer and story editor on the last three seasons of The Wire.