The Stanfield Organization is a narcotics trafficking organization in West Baltimore led by Marlo Stanfield. They emerge in 2004 as the primary competition to the Barksdale Organization. After the dissolution of the Barksdale outfit, The Stanfield crew becomes the preeminent narcotics trafficking organization in West Baltimiore.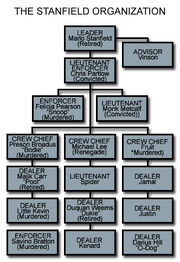 Leadership
Edit
Marlo Stanfield
Edit
Barksdale Organization following Avon Barksdale's release. Stanfield became the key West Baltimore drug kingpin following Barksdale's arrest.
A rising Gang Leader who got into a turf war with the
"Monk" Metcalf
Edit
Monk is Marlo's buffer between himself and the day to day running of the organization. He is responsible for resupplying the Stanfield drug dealers and making collections.
Chris Partlow
Edit
Chris Partlow is Marlo's most trusted enforcer.
Felicia "Snoop" Pearson
Edit
Snoop is a vicious female enforcer.
Tote is a an aggressive enforcer.
LaTroy is a a Stanfield enforcer killed by the Barksdale Organization.
Michael Lee
Edit
Michael Lee is a soft-spoken middle school pupil who gets taken under the wing of Marlo and Chris in Season four.
mSavino Bratton
Edit
Savino is a veteran enforcer who previously worked for the Barksdale Organization.
Bodie Broadus
Edit
Avon Barksdale. After the Barksdale organization dissolves, he is briefly independent (supplied by the New Day Co-Op) until Marlo Stanfield forces him to take his package.
Bodie was a dealer who came of age working for
Fruit is a crew chief in the Stanfield organization.
Fruit's crew.
Jamal is a young drug dealer in
Little Kevin
Edit
Travyone is a conerboy that hangs with Namond Micheal Randy Duquan Kanard donut in the season 4 finale who allways get into troble with officer walker first time in a stolen car with donut second time eating stolen candy from the store with Kenard thrid time passing out flyers on the street with Duquan forth time recording movies and selling them with Randy another time jumping a kid with Micheal and Namond.
Old Face Andre
Edit
Old Face Andre is the owner of a convenience store that acts as a Stanfield stash house.
References
Edit
Community content is available under
CC-BY-SA
unless otherwise noted.