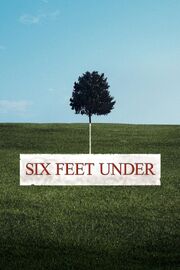 Six Feet Under is an American television drama created by Alan Ball that was originally broadcast on HBO from 2001 to 2005. It was produced by Alan Ball, Alan Poul, Robert Greenblatt and David Janollari. The series centers on a family-run mortuary, Fisher & Sons Funeral Home, and explores the lives of the Fisher family following the death of the family patriarch (the title being a colloquialism/euphemism for death, six feet being the traditional depth at which a body would be laid). The series is set in modern-day Los Angeles. Dan Attias has directed for both Six Feet Under and The Wire. The Wire cast member Michael Hyatt guest stars in the season 4 Six Feet Under episode "Coming and Going" (which was directed by Attias).
Community content is available under
CC-BY-SA
unless otherwise noted.