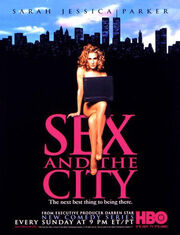 Sex and the City is a multiple Emmy Award, and Golden Globe award winning popular American cable television program. The original broadcast run of the show was on HBO from 1998 until 2004, for a total of six seasons.
Set in New York City, the show's focus is on four female characters. It was considered a sitcom, but had serialized storylines, like a soap opera, as well as dramatic elements. The show tackled socially relevant issues, often specifically dealing with women in society in the late 1990s, and how changing roles and definitions for women affected the characters.
J.D. Williams guest starred in the Sex and the City episode "No Ifs, ands, or Butts" as Sweet Sauce and stars in The Wire as drug dealer Bodie Broadus. Tim Van Patten has directed for both series. Supporting cast members Roscoe Orman and Sam Freed have appeared in both series.
Community content is available under
CC-BY-SA
unless otherwise noted.