Savino Bratton was an enforcer in the Barksdale Organization.
Biography
Season 1
Savino, along with Anton "Stinkum" Artis, Roland "Wee-Bey" Brice, and Russell "Stringer" Bell attended the trial of D'Angelo Barksdale to intimidate witnesses. ("The Target")
Savino later drove Bell to "The Pit" after Detectives McNulty and Moreland arrived to interrogate D'Angelo. ("The Detail")
Savino was one of the few enforcers in the Barksdale Organization to not be targeted by Omar Little, as he was not actively involved in the murder of Omar's boyfriend Brandon Wright.
After Avon and Stringer realized that Orlando was cooperating with the BPD, Savino picked up Orlando and an undercover Greggs. During the drive, Savino, suspicious of Greggs's presence, turned the radio volume up to hinder any potential wiretap. Savino parked in an abandoned alley and left the car. Savino attempted to signal that Greggs was with Orlando. Enforcers Roland Brice and Little Man shot and killed Orlando and injured Greggs. Warrants are written up for Savino because he had been identified in the operation, and he turned himself in. ("The Cost")
Attorney Maurice Levy made the argument that Savino intended to provide Orlando with baking soda instead of cocaine, and was unconnected to the shooting. Savino was sentenced to three years for possession of a controlled dangerous substance with intent to distribute it as a CDS in violation of Article 27, section 286B of the Maryland Annotated Code. ("The Hunt")
Season 5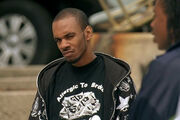 In 2008, Savino was a soldier in the Stanfield Organization.
Savino involved himself in the Stanfield crew's hunt for Omar after the latter returned, looking for vengeance for the death of Butchie and narrowly escaped an ambush attempt by Chris Partlow, Snoop, O-Dog and Michael Lee. ("React Quotes")
Savino was shot in the head by Omar Little in retaliation for the torture and murder of Butchie by Christopher Partlow and Felicia "Snoop" Pearson. Omar refused to accept Savino's explanation that he was not present at the incident, reasoning that if Savino had been there he would have joined in with the others. ("Took")
Post-Death
After Omar's death, Bunk found his "hit-list" and discovered all the upper-tier members of the Stanfield Organization he intended to kill. Savino's name was the only name crossed out.
Production
Appearances
*Uncredited appearance.
References