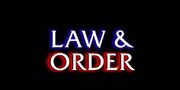 The term "Law & Order franchise" is commonly used to describe a number of related American television programs created by Dick Wolf and originally broadcast on NBC, all of which deal with some aspect of the New York City criminal justice system.
Shared people and resources in a common fictional setting are the connecting links between the shows, e.g., Hudson University and the New York Ledger tabloid newspaper. Many supporting characters, such as district attorneys, psychologists and medical examiners are also shared among the shows. Occasionally, crossovers of main characters and/or shared storylines between two of the shows will occur. A few major characters have also left the cast of one show within the franchise only to eventually join another. The franchise also crossed over on several occasions with the independently conceived Homicide: Life on the Street. The Law & Order programs share many cast and crew members with The Wire.
Law & Order franchise series programs include:
Related shows
Community content is available under
CC-BY-SA
unless otherwise noted.