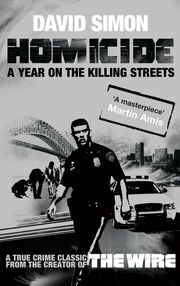 Homicide: A Year on the Killing Streets is a non-fiction book written by The Wire creator David Simon. The book was the basis for his earlier television series Homicide: Life on the Street.
Det. Beau Felton
Det. Stanley Bolander
Lt. Alphonse M. "Gee" Giardello Sr.
Det. Augustus Polk
Det. Patrick Mahon
Det. Francis X. Frank Pembleton
Sgt. Det. Kay Howard
Det. T. Tim Bayliss
Det. Rene Sheppard
Det. Roland "Prez" Pryzbylewski
Det. Stuart Gharty
Det. Meldrick Lewis
Det. Steve Crosetti
Det. Michael S. "Mike" Kellerman
Det. John Munch
Det. Willard Higby
Community content is available under
CC-BY-SA
unless otherwise noted.