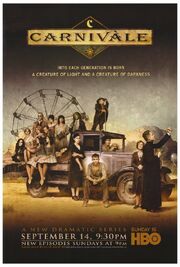 Carnivàle is an American television series set in the United States during the Great Depression. In tracing the lives of two disparate groups of people, its overarching story depicts the battle between good and evil and the struggle between free will and destiny; the storyline mixes Christian theology with gnosticism and Masonic lore, particularly that of the Knights Templar. The show was filmed in Santa Clarita, California, and other Southern Californian locations.
Carnivàle was produced by HBO and ran for two seasons between September 14, 2003 and March 27, 2005, overlapping with the early seasons of The Wire. The show was created by Daniel Knauf, who also served as executive producer with Ronald D. Moore and Howard Klein. Nick Stahl and Clancy Brown starred as Ben Hawkins and Brother Justin Crowe, respectively.
Carnivale and The Wire have further connections in the form of shared cast and crew members. Leo Fitzpatrick (Johnny Weeks in The Wire) had a recurring role as Hawkin's cousin Ern. Directors Steve Shill and Peter Medak have worked on both series.
Community content is available under
CC-BY-SA
unless otherwise noted.