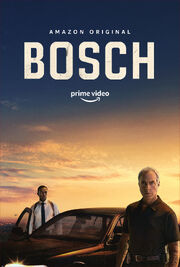 Bosch is an Amazon original drama series created by Eric Overmyer. Overmyer was a writer and producer for The Wire. Bosch is centred on homicide detective Harry Bosch and is based on a series of novels about the same character by Michael Connelly. Bosch and The Wire have several connections in the form of shared cast and crew members.
Cast
Jamie Hector starred as drug kingpin Marlo Stanfield in The Wire and stars as homicide detective Jerry Edgar in Bosch.
Lance Reddick stars as a police commander in both series. In The Wire he plays Cedric Daniels and in Bosch he plays Irvin Irving.
James Ransone had a recurring role as criminal wannabe Ziggy Sobotka in the second season of The Wire and has a recurring role as corrupt cop Eddie Arcineaux in the second season of Bosch.
Rick Otto had a recurring role as Detective Kenneth Dozerman in The Wire and played corrupt cop Bernardo Piccinini in the second season of Bosch, sharing many scenes with Ransone.
Clark Johnson stars as Newspaper Editor Augustus Haynes in The Wire and guest stars as civil rights attorney Howard Elias in Bosch.
Michael Kostroff played criminal defence attorney Maurice Levy in The Wire and appeared as Hank Myers in Bosch.
Kwame Patterson, played Stanfield lieutenant Monk Metcalf in The Wire and plays Edgar's confidential informant Gary Wise in Bosch. Both roles see Patterson sharing multiple scenes with Jamie Hector.
Elizabeth J. Carlisle played a prostitute in The Wire episode "Stray Rounds" and played Amber in the Bosch second season episode "Victim of the Night".
Tom Mardirosian played FBI Agent Kristos Koutris in the second season of The Wire and played Armenian crime boss Joey Marks in the second season of Bosch.
Tamika Simpkins played a mother in the fourth season The Wire episode "Home Rooms" and Commander Stanwick in the Bosch fourth season episode "Dreams of Bunker Hill".
Mikel Miller played a police officer in the first season The Wire episode "Cleaning Up" and Calvin Wilson in the third season Bosch episode "Aye Papi".
Chris Ashworth played organized crime enforcer Sergei Malatov in the second season of The Wire and organized crime enforcer Vardy in the fifth season of Bosch.
Antonio D. Charity played corrupt corrections officer Dwight Tilghman in The Wire and fugitive criminal Bo Jonas in Bosch.
Crew
Community content is available under
CC-BY-SA
unless otherwise noted.